A Letter to Our Gracious Patrons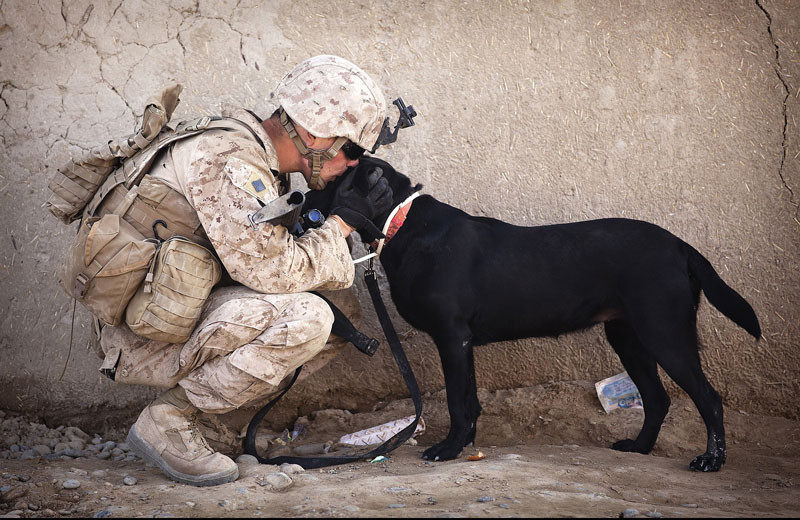 Dear Patrons,
War Memorials can serve as a reminder of the loss of human life and if that life belongs to a Military Soldier you have to consider his best friend, his canine companion who faithfully serves him. It can be powerful and contribute to the pursuit of peace. It acknowledges their heroism and the fact that the "dog's presence alone creates a strong psychological deterrent" in battle. Their contribution to the safety of our combat soldiers is immeasurable.
Throughout this process of deciding what type of memorial we wanted, Trainor Associates of New Hartford, NY donated their expertise in providing art design and valuable advice. Through them we chose a picture of a soldier and his dog that we decide to use as our model that will depict ALL Military Handlers and their canine companions.
The Guardians of Freedom Memorial will be a statue of Marine Sgt. Adam Cann with his Military Working Dog Bruno. Sgt. Cann of Davie, Florida was killed in action by a suicide bomber while serving in Operation Iraqi Freedom in 2006, making him one of the first K9 Handlers killed in action since Vietnam. Bruno survived (having been critically wounded) and continued to serve in active duty, passing away in 2011. Although not from the Mohawk Valley, this young man sacrificed his life for our Country and deserves, among millions of others, to be recognized as Heroes.
Legislator/Chairman John Brezinski and his committee have been heavily involved in raising funds to build this memorial at NYS Thruway Exit 30 in Herkimer County, NY. "Military dogs are the unsung heroes who deserve recognition and this statue will serve as a memorial for all those who have lost their lives for us. They are critical to many of the military efforts continuously working under extremely difficult circumstances." "These dogs don't have a voice. They get trained…and they love their job. They do it well, but they don't have a voice." We want to be that voice for them.
Sincerely, The Guardians of Freedom Committee
Return to the full list of Letters from the Board of Directors.